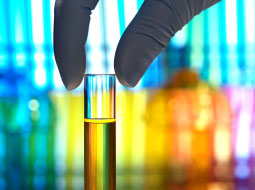 Wishlist
This course will first discuss the origins of the periodic table and the important role of Dmitri Mendeleev. You will then study the trends in the periodic table and the elements of the first transition series. You will look into the history and development of atomic theory and study electrons, isotopes and relative atomic mass, and nuclear fission and fusion. This course will also discuss thermochemical equations, electrochemistry, electrolysis, fuel cells, and energy conversions.

You will then study the nitrogen cycle and look into the use of nitrogenous fertilizers. This course will then cover the digestion of proteins, lipids, and carbohydrates, and discuss saturated and unsaturated fats, and vegetable oils. You will also cover nutrients and nutrition, and energy found in food. You will learn the role of water in chemistry, the relative energy content of foods, and the energy consumed in food production. You will also study the denaturation of proteins.

After completing this course, you will have a much better understanding of the different elements of chemistry, and will be able to look at the periodic table and electron arrangements with new eyes. Students who take this course also get a better understanding of the history and development of atomic theory, the nitrogen cycle, digestion, carbohydrates, proteins, food components, glycogen, and other food concepts. So check out the course today and start gaining some interesting new knowledge.
[[comments.length]] Comments
[[(comment.user) ? comment.user.first_name+' '+comment.user.last_name : comment.name+'(anonymous)']]
[[ formatDate(comment.created_at) | date:'medium']]
[[ comment.text ]]
[[(comment.user) ? comment.user.first_name+' '+comment.user.last_name : comment.name+'(anonymous)']]
[[ formatDate(comment.created_at) | date:'medium']]
[[ comment.text ]]